Corvettes In Paradise was founded as a non-profit organization by a small group of Corvette enthusiasts in Southwest Florida, more specifically, the Naples area. We are one of the 18 clubs of the Florida Region, and members of the National Council of Corvette Clubs, (N.C.C.C. pronounced N triple C). Nationally there are approximately 18,000 members in 233 clubs in 16 Regions.

In addition to the NCCC, there is the National Corvette Museum in Bowling Green Kentucky that is an amazing place to visit. They are the "Home" of the Corvette and adjacent to GM's Corvette Assembly Plant.

NCM has detailed the history of the Corvette with full size exhibits, shows and even a Corvette Simulator! It's worth your while to visit this remarkable facility that relies on our memberships and donations.

In 2007 they were instrumental in creating one of the best high speed tracks just across the interstate called NCM Motorsports Park.
This 3.15 mile track on 419 acres is a personal favorite and guaranteed to excite any track enthusiast!
If you own a Corvette in the Naples area and want to meet some really great people, come to one of our meetings.
Be sure to contact one of us first so we can arrange for your visit.

Monthly meetings are on the 2nd Thursday of the month at 6:30pm in the Winding Cypress Amenity Center, Event Room, at 7180 Winding Cypress Drive, Naples, Florida, 34114.

But we usually go to our Shady Palm Restaurant before the meeting for a friendly dinner with our friends. Please join us! We would love to meet you to tell you more and share some great stories!
As time goes on we will continue to provide more information about who we are and what our purpose is. But for now, we are simply enjoying sunshine, Corvettes, and friends in a beautiful place called Paradise!
---
Board of Directors
President: Sally Kosten
Treasurer: Jim Gregory
Secretary: Donna Huddle
Membership: Russ & Maggie King
Activities: Donna Huddle
Governor & Florida R.E. : Fred Dugach
Website: Fred Dugach
---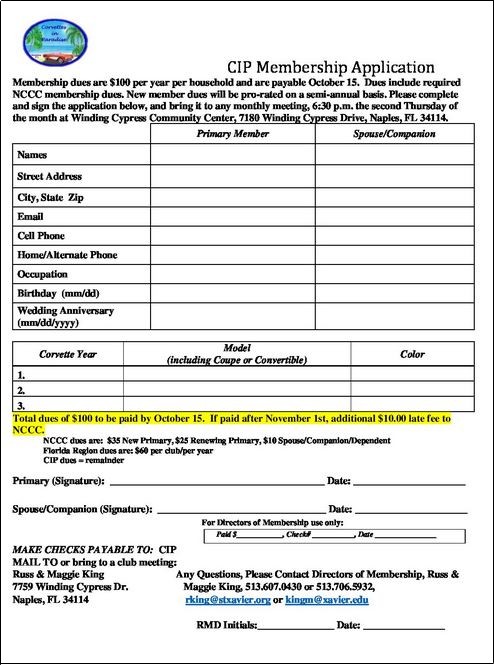 ---

---
Why NCCC?

The National Council of Corvette Clubs, Inc.
NCCC, (Pronounced N triple C), was founded as an all volunteer, non-profit organization in 1959 by a small group of Corvette owners/enthusiasts!
The purpose of NCCC was (and still is) to promote interest in Corvette ownership and operation, to publish information on the use and operation of the Corvette and to establish an organized effort to encourage others to participate in the enjoyment connected with the use of the Corvette!

The Competition Program is administered at the National level. This is a major BENEFIT to Member Clubs. The purpose is to encourage interactivity between individual Clubs within NCCC. The largest single BENEFIT most obvious is the insurance program provided by Legacy Insurance Network (LIN), which is a third party insurance; covering ALL MEETINGS, SOCIALS, CARAVANS, CAR SHOWS and COMPETITION EVENTS.
For more information about the NCCC, please click and download the following brochure.
Below is an abbreviated listing of the coverage under this policy:
COVERAGE LIMITS
"General Aggregate" ………………………………………………………..$5,000,000.00
"Products-Completed Operations Aggregate Limit" $2,000,000.00
"Personal and Adv Injury Limit"……………………………………$1,000,000.00
"Each Occurrence Limit"……………………………………………..$4,000,000.00
"Damage To Rented Premises (each occurrence).$100,000.00
"Participant Accident AD&D"……………………………………….$25,000.00
"Participant Accident Medical"……………………………………$50,000.00
Non-competitive Event Liability…………………………………..Per Member
Rallye Event Liability………………………………………………………Per Event
Competitive Event Liability……………………………………………..Per Event
(This does not cover travel to and from supervised, insured, sponsored events)
There are many other BENEFITS MEMBERS receive from the NCCC:
Publication:
The BLUE BARS magazine is our NCCC Newsletter that is published 4 times a year and is a wonderful example of the Corvette fun that NCCC generates.
Charity and Grants Program:
NCCC donated over $121,000 to the National Kidney Foundation in 2002. Each year a new Corvette is raffled off and the model is selected by the Charity Committee. Over the last 7 years, the National Council has donated over $500,000 to our charity of choice.
Regions and/or Clubs may choose to donate $500 or more towards the Scholarship Program for the children of NCCC members. Also, under the Grants Division, we have a provision for NCCC member hardships. Each hardship donation is determined by the Charity Committee and the Charity Director.
Competition Program:
NCCC has organized a comprehensive National Competition Program which all of our Clubs may participate in. We have a set of Rules that are Nationally recognized and followed. We have a National Points compilation that is maintained by the Vice President of Competition and a Regional Points Standing that each Regional Competition Director is responsible to maintain.
Click HERE to download the Florida Region Registration Form.
Click HERE to download the Entire 2020-2021 Competition Rule Book.
Click HERE to go to the NCCC Competition Information at NCCC.
Click HERE for the large numbers for the side of your car.

Click HERE Snell Helmet Regulations. Helmets no older than 10 years.
NCCC Web Site:
NCCC has a vast web site that connects all of our Regions together. It is a central location for NCCC Members to get information on events and keep up on the pulse of NCCC Corvette Membership. It is also home to the NCCC Classified Ads which has been extremely effective in the sales of Members' Corvette related items.
Future Corvette Owners Association (FCOA):
Since 1991 FUTURE CORVETTE OWNERS ASSOCIATION has been the youth organization of the National Council of Corvette Clubs (NCCC), the largest non-profit Corvette organization in the United States. A unique "Corvette Club for Kids", it has Mid America Motorworks as its main sponsor. FCOA projects are also supported by other major automotive-related businesses. Its mission is to instill and then maintain an interest in the Corvette hobby within the younger generation.
NCM Ambassador
One easy way to support our club is to become an Ambassador to the National Corvette Museum. There are many things going on in the NCM like an excellent chance to win a brand new Corvette! Click HERE for more details.
Membership Packets:
Each NCCC Member receives an NCCC Membership card, many Special Discounts for NCCC Members for various businesses, updates on our NCCC Rule Book and much more. You may purchase NCCC items through our "Goodie Store" as well.
Annual Conventions:
NCCC hosts an Annual Convention in different parts of our Country. Cleveland OH, Orlando FL, Colorado Springs CO, Tulsa OK, Nashville TN, Las Vegas NV, St. Cloud MN, and Savannah GA were the sites for some of the Conventions.
The Conventions, past, present, and upcoming are posted HERE, on the NCCC website.
Convention is a place where NCCC Members come together nationally for a week to partake in some friendly competition, enjoy parties and dances, make new friends, and simply have a time to remember forever!
FUN!
NCCC is based on having fun with your Corvette! We have so many Clubs and Members that enjoy their Corvettes and have made life long friends through our local club and this fine Council!
You will not find any kinder group of Corvette loving people anywhere! NCCC and our local clubs brings the Corvette community together to honor America's True Sports Car: THE CORVETTE!
(Thanks to NCCC Member Jack Carkner for the basis of this information.)
Please Click HERE for more details.